"Love Dandelions" is a powerful life skill relevant to all people who have ever tried to change anything about themselves and become frustrated. It comes from Dialectical Behavioral Therapy for Borderline Personality Disorder.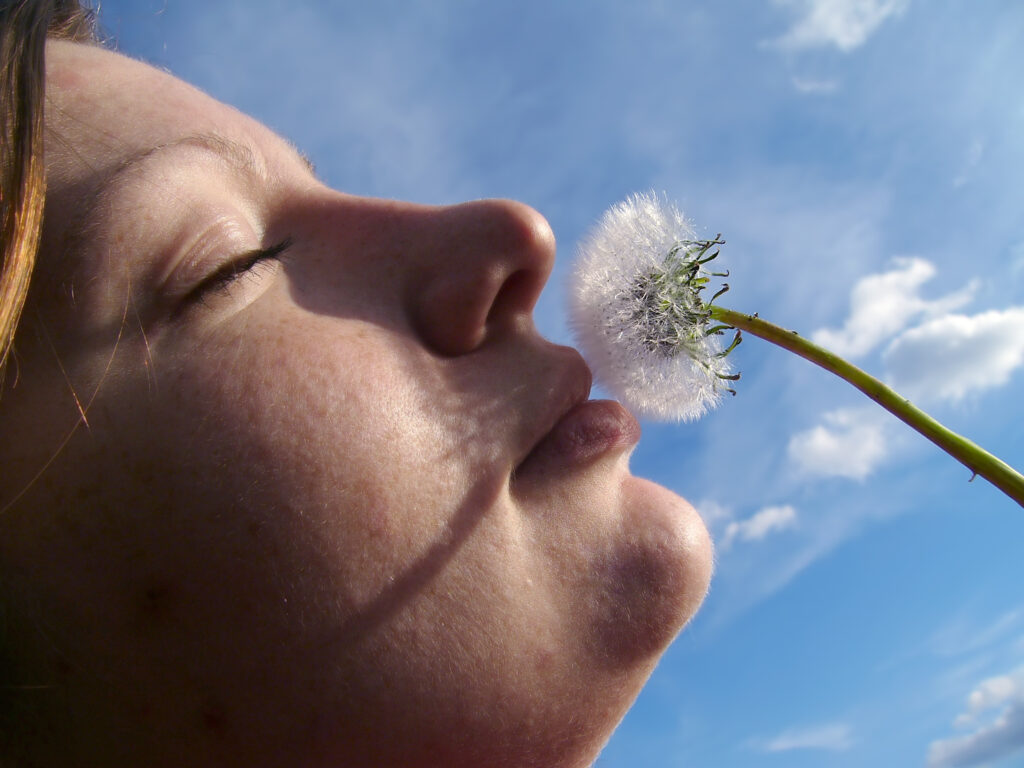 Dandelions, like personality traits, can be seen as lovely or a nuisance, depending on the context. Photo: Len-k-a, Sxc.hu
Our Love-Hate Thing with Dandelions
In the DBT skill called "Love Dandelions", we use dandelions as a metaphor for things about ourselves that we don't like. Think about how a gardener who is trying to cultivate a lawn views dandelions. He might have once loved the beauty of these little flowers except for the fact that now he is trying to grow grass and the dandelions are so persistent, no matter what he does, they always keep popping up their heads. If left unattended they can take over the whole lawn.
This creates work and stress for the gardener, who comes to see the dandelions as unwanted, unwelcome weeds of no value. He gets burned out, feels like a failure. He may take extreme measures and try to poison them all. Or maybe he gives up completely and stops coming to work, letting the weeds grow out of control and making excuses.
Dandelions as a Metaphor for That Which we Don't Like About Ourselves 
Now think about something you don't like and want to change about yourself, and compare it  to dandelions. Maybe you have an intense fear of rejection so when you sense a loved one's displeasure you get very emotional and clingy. No matter how hard you try you still have this trait. Once in awhile this can be seen as cute but if it happens excessively, It takes over your emotions like weeds take over the lawn, and becomes destructive to the relationship.
If you see this trait as "awful" and try to eradicate it completely, you become frustrated, because even if you have some success controlling your emotional outlook and behavior eventually you still find yourself feeling rejected, emotional and clingy. The idea of change starts to seem impossible, causing you nothing but pain because the trait keeps coming back up and you feel like a failure. Eventually you get defensive and give up.You feel wounded and angry at yourself and others for not loving  you as you are and you let the trait come flooding back unchecked.
How the Wise Gardener Deals with Dandelions
But what if you tried to manage your troubling traits the way the wise gardener deals with dandelions? He knows that dandelions will never disappear completely, no matter what he does. The wise gardener accepts this, and simply strives to manage the dandelions by plucking here and there, or planting more grass seed in the bare spots. In this way he is able to prevent  the dandelions from causing any harm, while preserving the beauty that he knows exists in them.
Then he and others can embrace the dandelions as beautiful  pinpoints of golden sunshine and welcome signs of spring!
The wise gardener knows that through the eyes of a child,  dandelions are glorious, luxurious flowers. When they go to seed they make for an idyllic moment in time when a child holds them up to the wind or her breath and causes the seeds to blow in a cloud of white whimsical fluff.
What if we loved our dandelion-ish traits, and saw the beauty that is in them? What if instead of trying to eradicate them completely, we let them stay a little?
What's Good About Us is What's Bad About Us is What's Good
If you are overly tuned into and reactive to rejection, you are probably also the first to notice someone else's pain and have the ability for great empathy and kindness. And yes, if you are overly sensitive, always take things personally, and  let this go out of control it can be destructive. Maybe even very destructive. But if you can just temper it a bit and value what is good about it, maybe the task will seem easier and you will not get burned out or get so down on yourself.
Can you love your dandelions?
The truth is, that any personality trait you can point to in any person can be seen as a good or a bad thing, depending on how and when it is expressed. We all have our dandelions and we all have to manage them in order to achieve our goals for happiness and peace.
Is it possible to accept that the dandelions will be there, and even to love them, while at the same time deciding to keep the destructive part of their nature to a minimum because they interfere with your goals and dreams?
The Dialectical Part of Dialectical Behavior Therapy and Life
Love Dandelions helps you address the dilemma of change and how you see yourself. Why would change be a dilemma? Because the motivation to change often comes from seeing yourself as flawed. But if you judge yourself and see yourself in such a negative light as people with BPD are apt to do, this can actually deplete your motivation to change because you become like the burned out gardener.
The dilemma of change is an example of a "dialectic", which Dialectical Behavior Therapy is named for. A dialectic is two contradictory ideas: I am not ok, I need to change vs. I am fine, I should love myself, and others should love me just the way I am. The dialectical process is about resolving the conflict between those two: not proving one or the other right or wrong, but seeing how they can and do coexist, and holding them both in consciousness at the same time.
Our society promotes duality in that you are either right or wrong, either you win or you lose, either it's true or it's false. Human beings and the world we inhabit are more complex than this view allows. That is part of the brilliance of Dialectical Behavior Therapy and Love Dandelions.
©Lisa C. DeLuca, 2013 all rights reserved.  It is a violation of copyright law to reproduce this work on the web or for business use without permission from the author. Please contact the author with your reprint request. This article is not intended to substitute for personal medical or mental health advice. If you experience troubling symptoms please seek out a qualified doctor or mental health professional in person.