Lisa C. DeLuca, LCSW is a psychotherapist, social worker and writer.
In her psychotherapy practice, she works with teens, adults, couples, families and the elderly in Eastern Suffolk County, Long Island, New York, USA.
Lisa sees therapy as a collaborative relationship that allows for a deeper level of understanding than can be reached when people get "stuck inside their own heads."  Through the work, clients will better understand past and present events, symptoms, thoughts, emotions and behaviors, and see a way through to the future.
One of Lisa's strength's is in helping people clarify and articulate their unique truth. The goals are healing, clarity, self-empowerment, effectiveness in life and relationships, as well as a more authentic experience of the self, and a more heart-felt expression of self in the world.
Areas of expertise include Bowen Family Systems Therapy; teenage issues, parenting teens; couples relationship and communication coaching; cognitive-behavioral therapy for panic disorder; anxiety and depression; self-empowerment, self-esteem and identity expression; relaxation and mindfulness; end of life and eldercare issues; family caregiver burnout; grief; issues around dementia; journaling.
Areas of interest include human spirituality; trauma recovery; crisis intervention; suicide prevention; transcending human limitations; psychoanalysis; dialectical behavior therapy for borderline personality disorder; purposeful living; meditation, prayer and alternate ways of knowing; raising twice exceptional children (gifted and learning disabled); educational issues; Christianity and other religions; yoga.
Lisa earned her Master's in Social Work at SUNY Stony Brook in 1996 and a Bachelor of Arts degree in Sociology from Fordham University in 1984.
Lisa has published more than 200 articles on the web since 2009, about mental health, family caregiving, parenting and life. She authored a cognitive-behavioral treatment program for panic disorder which will  be available as an e-book in the near future.
Her private psychotherapy practice is in Southold, NY. Contact her for a free telephone consultation.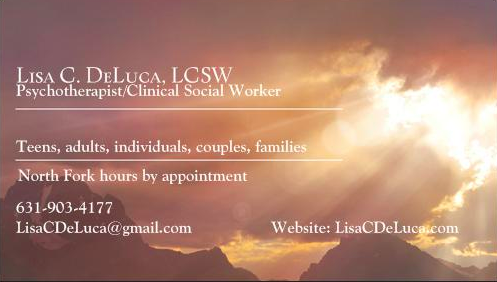 Insurance Accepted: Medicare, Empire Blue Cross/Blue Shield
54895 Main Road, Southold, NY 11971
FEES
Regular Session: $100 to $120 (1 hour)
Click here for more information.